From November 2018 - Test ride Wave Chaser's innovative surf, paddle & sail watercraft.
Products for hire
SUP Catamarans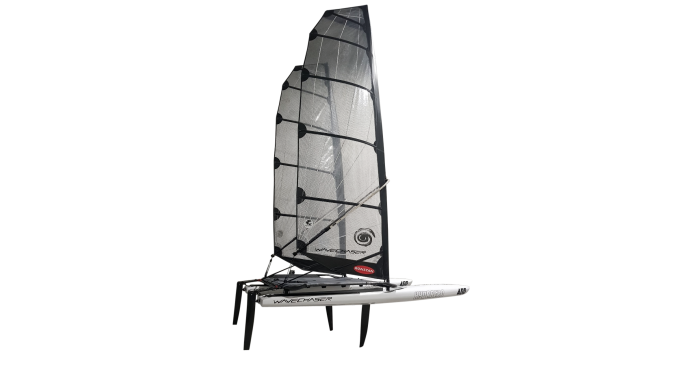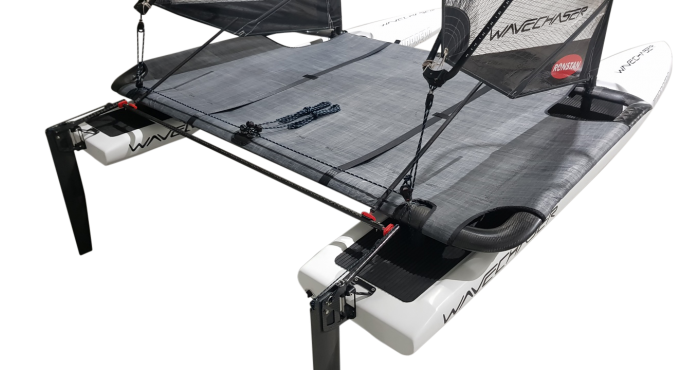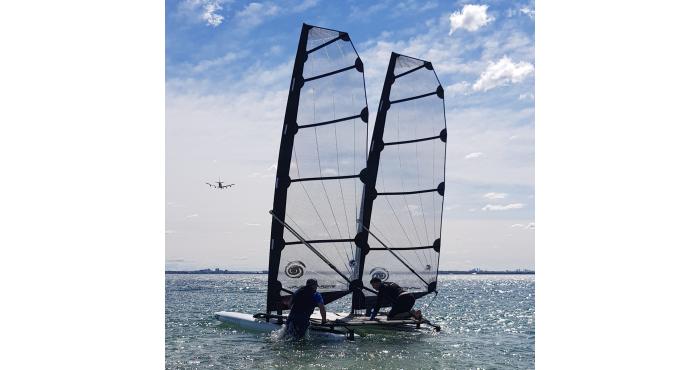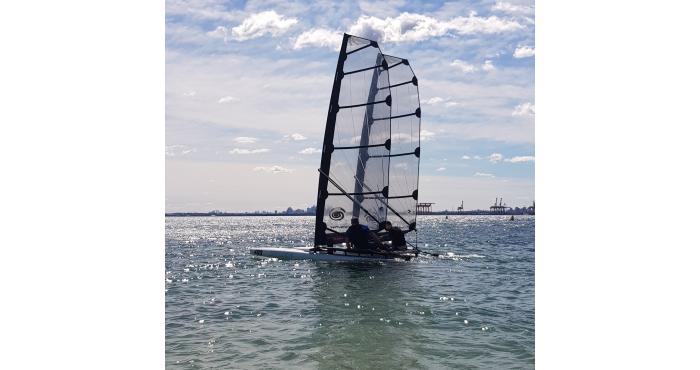 Featuring the all new Hydraero 400 Hybrid SUP catamaran.
The Hydraero 400 is purposefully designed to Hydroplane…the constant curve "C" foils are cambered inward to produce lift onto the rear planning surface of the hulls. This unique set up provides for fast, stable planing and good control through tack and gybe transitions. The low-down power delivery of the twin rigs, combined with a high righting moment, allows the craft to be driven hard in high winds.*
The craft is light weight, super agile, easy to assemble and quick to learn on. Practically any keen sports/lifestyle enthusiast can handle this craft and get up to speed within minutes.
*For crew safety Wave Chaser SUP Catamaran hires are limited to sail in maximum wind strength of 12knots. Total Crew weight up to 180kg.
Paddleboards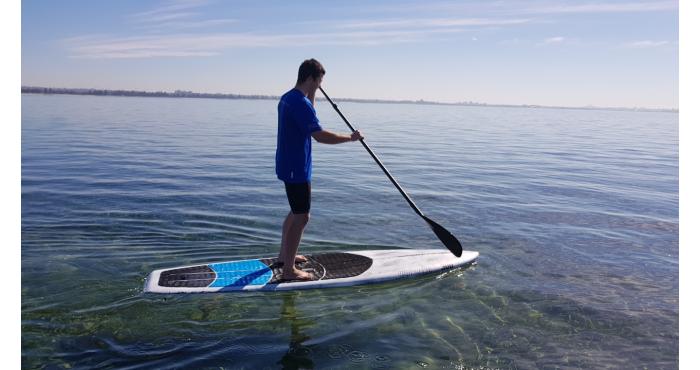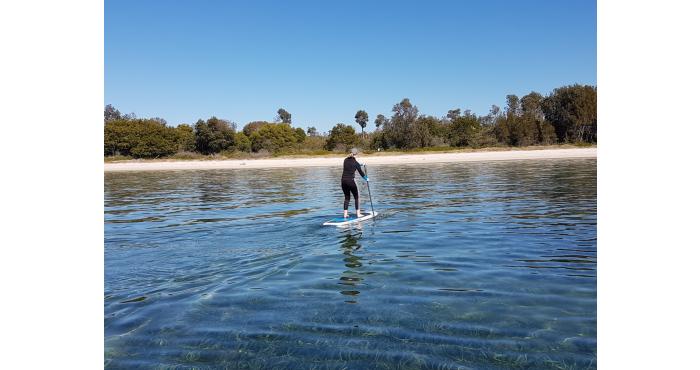 Hydraero Hybrid Stand Up Paddleboard (SUP)
The Wave Chaser SUP range is modelled on the Hydraero 400 with design features of flatwater, downwind and surfing paddle boards.
The subtle displacement bow flows into a triple concave bottom with chamfered under rails providing efficient hydrodynamic lift and fluid release. Width, rail height and waterline length provide a combination of good glide, stability and solid surfing characteristic. The full bow area improves buoyancy and ride over choppy water.
The Hydraero Hybrids offer superior paddling in variable conditions with the easy rail to rail transfers when surfing.
The Hydraero Hybrid is the ultimate all-round paddleboard. Great for recreational use, yet fast and fun to surf, this along with excellent material strength provides a level of performance and durability attractive to rental fleet operators and paddle boarders of all levels.
Rider weight up to: 120kg
Paddleboard Surfing Awareness
Respect the conditions  
Understand your capability
Avoid crowded surf breaks
Respect other wave riders
Wear a leg rope
Surskis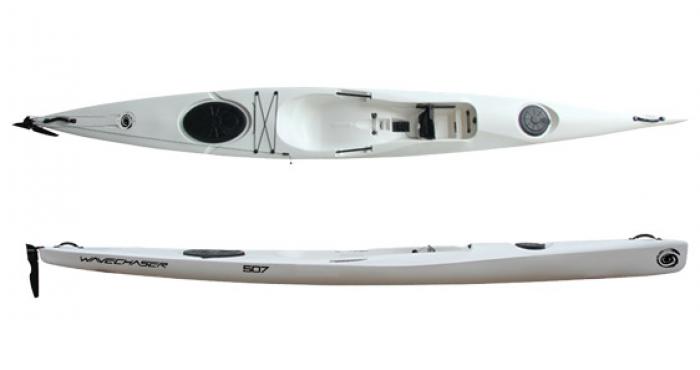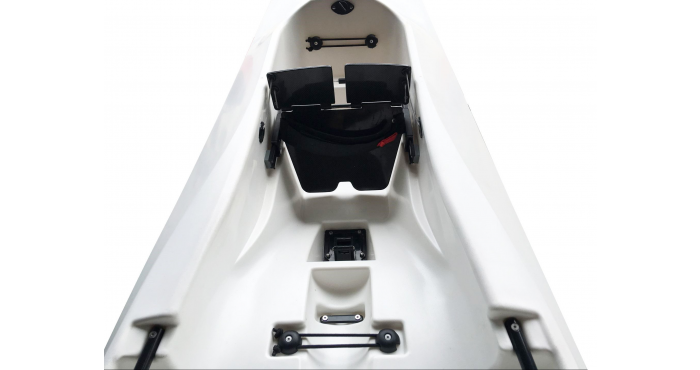 Wave Chaser 507 Touring Surfski
The Wave Chaser 507 Touring Surfski is made from dual layer polyethylene, providing a durable but very light hull without the worry of stress fractures, chips and dings suffered by carbon or fiberglass hulls. The 507 shape is extremely stable and easy to handle in most conditions, by most paddlers, beginner through to intermediate.
The 507 features high quality fittings including; carbon fiber footboard, pedals and bailer.  Forward and aft compartments have lightweight, waterproof hatches and allow for ample storage and a Smart Track Control Systems, stern mounted, vertical swivel rudder.
Surfskis are the perfect watercraft for exploring the unique coastal environment of Kurnell, Bonna Point and Towra Point Nature Reserve.
Hire is available from our beachfront hire location at Silver Beach Kurnell.
It's always better to reserve your hire by booking online.
Our Hire Location
Kurnell is a large sandy peninsula, with a rocky headland, that juts out into the Tasman Sea on the southern side of Botany Bay. Here you will find Silver beach, with its shallow waters, bright sand and rock groynes, running right along the northern end of the peninsular projecting into Botany Bay. The Kurnell area is ideal for boating, sailing, windsurfing, kite boarding, kayaking and paddle boarding all with the Sydney city skyline as your backdrop.
Book hire now
Paddleboards
Surfskis
SUP Catamarans
Paddles
PFD Safety Vests
Paddling & Sailing Instruction
Paddleboards
1 hour: $30
2 hours: $50
3 hours: $60
Daily: $90
Weekly: $180
Surfskis
1 hour: $40
2 hours: $60
3 hours: $70
Daily: $100
Weekly: $200
SUP Catamaran
1 hour: $60
2 hours: $100
3 hours: $120
Daily: $180
Weekly: $360
Paddle
Hourly: FREE
Daily: $10
Weekly: $20
PDF Vest
Hourly: FREE
Daily: $10
Weekly: $20
Helmet
Hourly: FREE
Daily: $10
Weekly: $20
We offer discounts for groups - so get your team together and plan a paddling or sailing day out! 
Whether you're an individual or a rental business in need of watercraft equipment to support your lifestyle pursuits or business needs, Wave Chaser can provide you with equipment and payment terms customised to suit your budget.
Enquire now and find out how easy it is to get the watercraft you need today without the financial burden of outright ownership!
What to wear: Comfortable swimwear, wet shirt and or wetsuit, a hat. Bring your towel and dry clothes for after hire comfort.
What to Bring: Water (at least 1l per 2 hrs on the water), hat, sunglasses, towel, change of clothes & sunscreen.
Optional gear to pack: Camera, lunch, large bag (to keep your gear dry when on the water). Note that we do not take any responsibility for loss or damage of gear.
Pre-Requisites: No paddling or sailing experience is required - beginners are welcome! All participants must be able to swim and be in reasonably fit condition and each person participating in the hire must sign a release form before taking to the water. Children under 12 years of age must be accompanied on the water by an adult at all times. Hirers under 18 years of age must have their hire agreement signed by a legal guardian or parent.
Acceptable Use: Hirer's must agree and acknowledge that you will be solely responsible for the Watercraft, and will ensure the Watercraft is handled and operated in a responsible, safe and conscientious manner. Hirer's shall at all times observe and adhere to applicable laws along with any rules and guidelines indicated verbally or in writing by Wave Chaser Staff or Representatives.
Watercraft Safety & Limitations: Hirer's must wear appropriate Safe Operating Equipment for the Watercraft, including if required; a Certified Personal Flotation Device (PFD), and Water Safety Helmet. Hirer's must not handle or operate the Watercraft for activities other than those for which the Watercraft is designed. Hirer's must not violate total crew number and or load limits designated for the Watercraft.
Booking: Please book at least three days before your preferred hire date. We accept walk-on customers; however, availability is not always guaranteed.
Cancellations: At times the local conditions may not be suitable for hire activity. We'll endeavor to notify you well in advance, however please contact us to confirm prior to departing your location for Kurnell.
Payments for hire are not required until the hire is confirmed on the day of hire.