Development Story
In 2012; I became seriously interested in beach catamarans, with a view that owning one would provide plenty of enjoyable moments out on the water with family and friends. For some reason, I began to envisage what it might be like to sail a windsurfer-catamaran with twin rigs, one on each hull. I researched the concept and learned about the performance advantages of twin rig and planning hull catamarans, mostly on larger racing and cruising catamarans. 
I then decided to undertake the precarious challenge of designing and building a windsurfer-catamaran. Thankfully, a diverse group of qualified industry professionals were willing to provide crucial R&D support, particularly renowned surfboard shaper Sam Tehan, who's been an amazing co-designer from the beginning. 
"We've created a totally unique watercraft…the Wave Chaser Hydraero Twin Rig SUP Catamaran, is a planing hull catamaran with paddleboard & windsurfer features. This craft is designed to maintain stability at speed and is built to handle extreme wind loading and wave slam." Waver Chaser Founder & Managing Director – Nigel McBride
By 2015, after extensive prototype testing, our Wave Chaser development team had achieved their design and performance objectives and more. The hulls can be ridden individually as Touring or Downwind Stand Up Paddleboards and with purposefully designed modular parts, the craft transforms into a high-performance catamaran.
Today, Wave Chaser is dedicated to the evolutionary design and development of a diverse range of watercraft and equipment, including; Stand Up Paddle Boards, Sailing SUP Catamarans, SUP Surf Boards, Surf Foil Boards, SUP Surf & Downwind Foils, Water Wear, Equipment & Accessories.
WAVE CHASER, HYDRAERO & EVAGLIDE are Registered Trademarks of Wave Chaser Pty Ltd.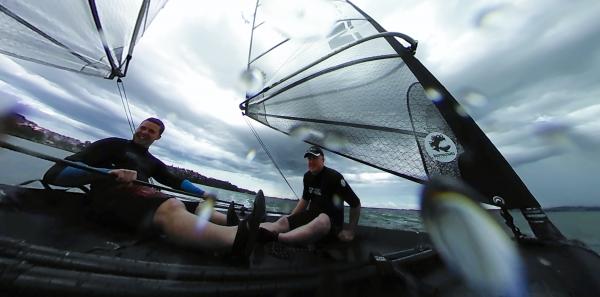 Prototype to Production 
Jesse Keith, Director of Vivid Origin, shared his creative design ingenuity for the original prototype 2D and 3D models.
Warren "Skip" Miller, from CCG Composites, conducted extensive structural analysis on the design to determine required material and layout composition. Skip is a leading marine engineer and has worked on many world class and record breaking vessels, including Wild Oats Xl.
Mark Sterbic, Chris Dickson & Clynton Wade-Lehman, from CST Composites, provide their expertise and advice for the core elements, mainframe, masts and steering system. CST Composites use the highest quality aerospace grade towpreg carbon and unique filament winding technology and patterning to produce the strongest and lightest windsurfing masts in the world.  
Jim Lucas & Sam Tehan, from Force 9 Surfboards, share their many years of knowledge and experience of surfboard development. Force 9 Surfboards are constantly evolving, staying on top of current shaping, manufacturing trends and technologies to deliver the highest quality surfboards available. 
Neil Tasker, from Barracouta Sails, draws on over 30yrs experience to help design and manufacture Wave Chaser sails and trampolines. Neil continues to provide valuable sailing advice and is involved in ongoing testing and development.
Max, Ross & Greg, from Maxy Boats, are all highly reputable boat & yacht builders & repairers. Max helped piece together the Wave Chaser from a performance yacht builder's perspective and continues to be involved in testing and development.
Dario Valenza, Founder and CEO of Carbonix, is keenly interested in fluid dynamics and vehicle design and brings an unrivaled level of advanced composites knowledge to the next stage of Wave Chaser development. Dario was part of the first wave of composite material developers. First on a small scale, then as part of larger teams in professional yacht racing, including the America's Cup.
Tom Brewer, Director of Brewer Performance Sailing, is an advanced sailing instructor and performance coach for Australian Team members in junior classes. Tom has represented Australia at world championship level and has helped Wave Chaser test and evolve our performance sails.
Marc Veenendaal from MPV Design, transformed our original prototype shape files into the new Hydraero 400 fully rendered model from which we were able to make complete part moulds for a production level SUP Catamaran. 
Mark Rowed & Greg Cavil, from Innovation Composites, have given their expertise to the development of the Hydraero 400. Innovation Composites provide high quality composite manufacturing and repairs to the marine industry, including the highly acclaimed Superfoiler fleet. 
Discover the brand...